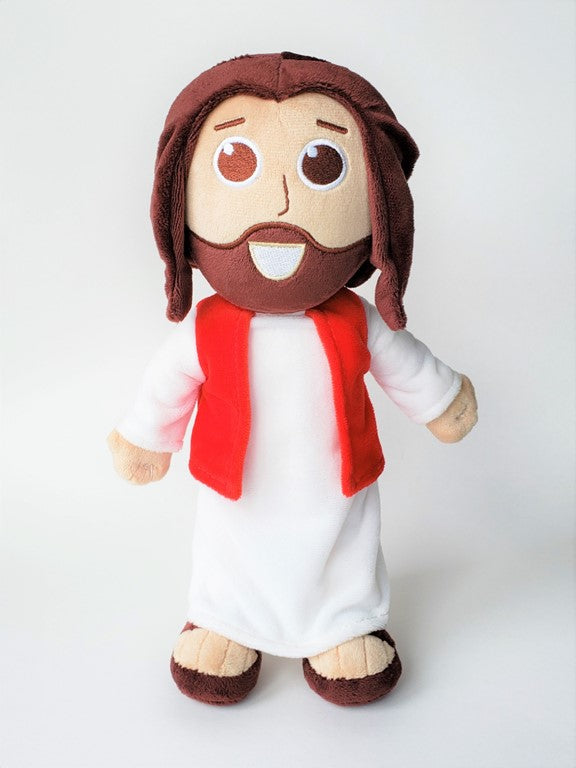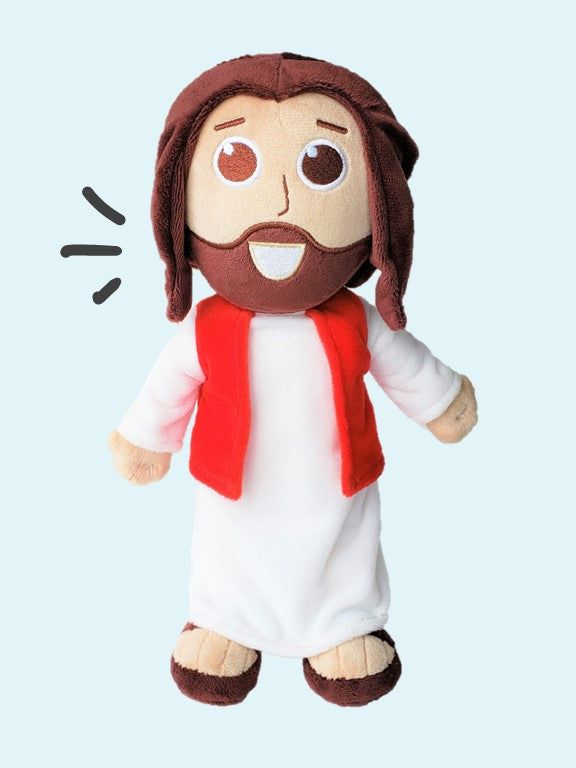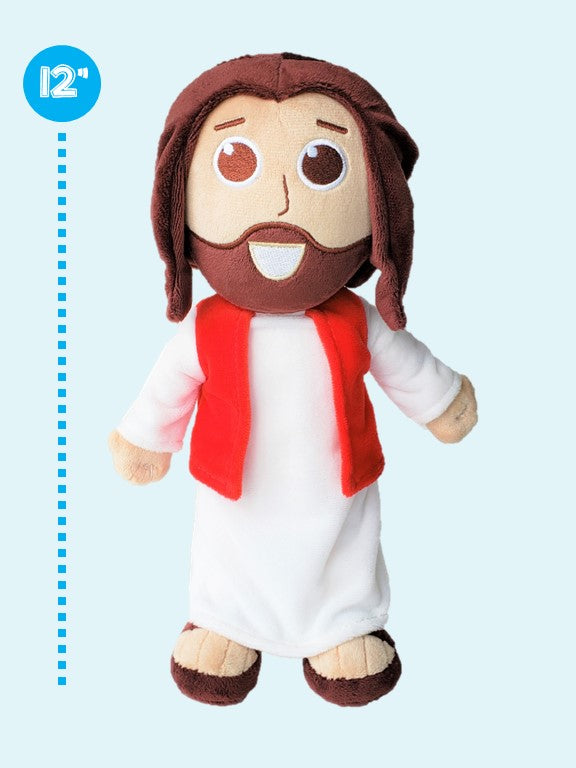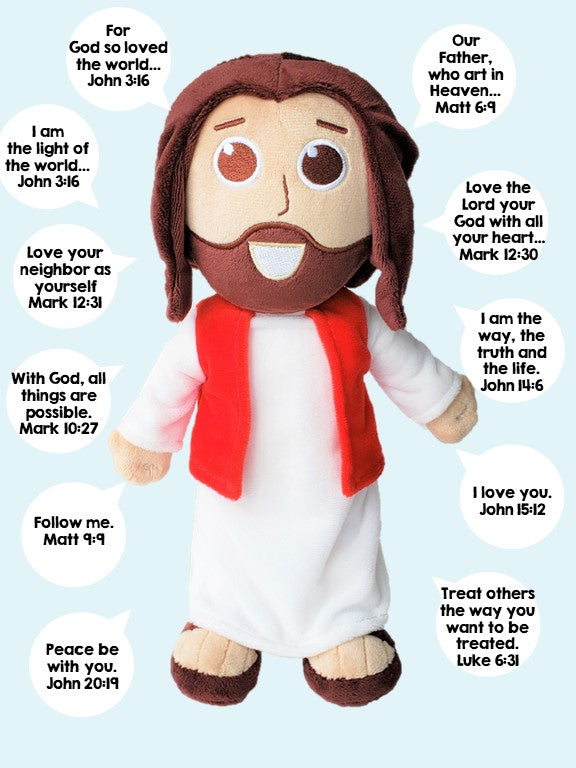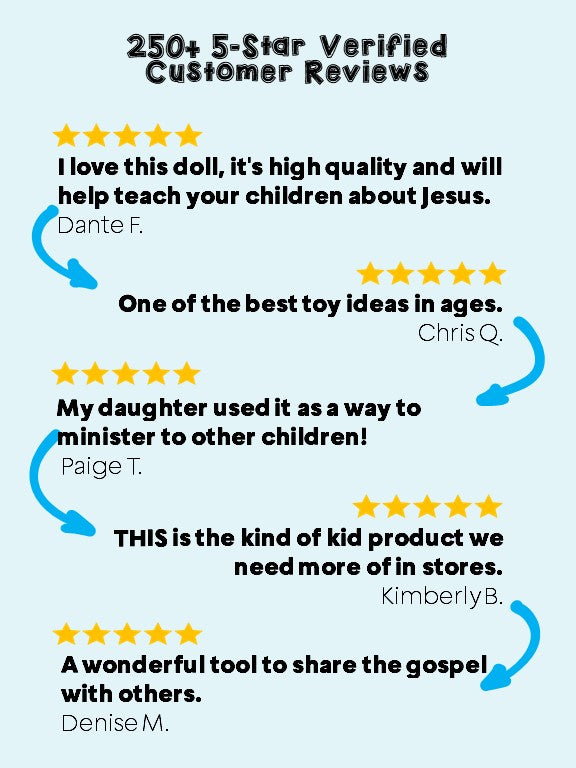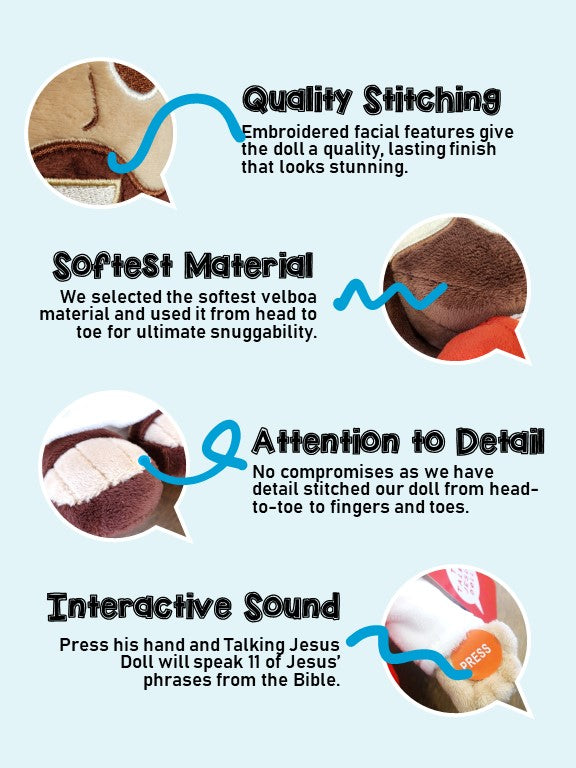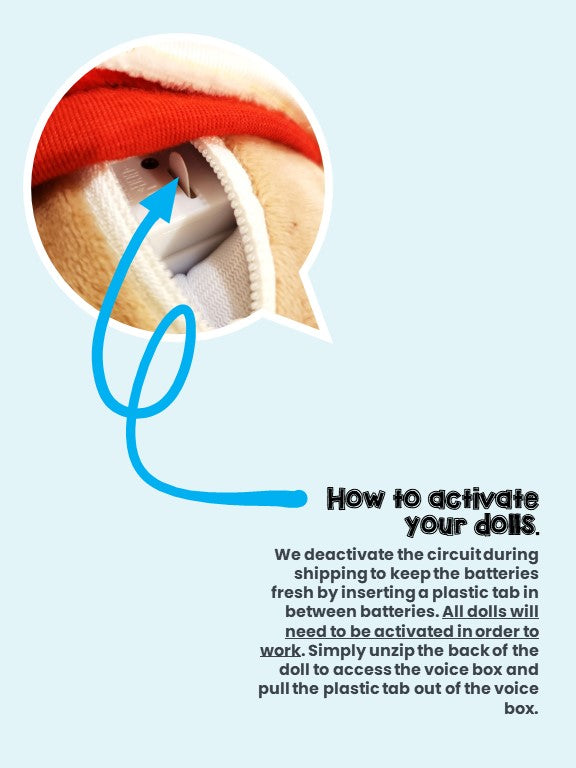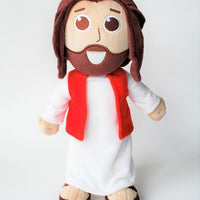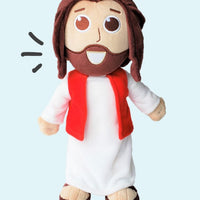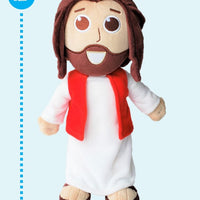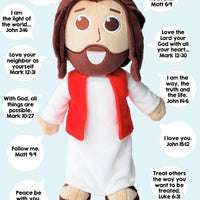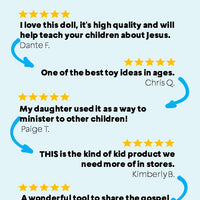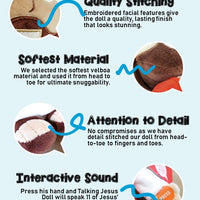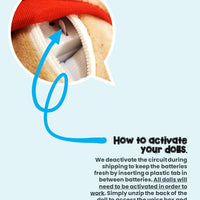 🔥Get 4 for $99! Use 49923
2000+ bought in past month
Give your child the gift of Jesus Christ with the original Talking Jesus Doll.  Jesus' outstretched arms and warm smile welcome your child.  They will want to hold and hug Jesus with his velvety-soft body. Children love to squeeze Jesus' hand to make him talk.  Parents and Grandparents love that their child is learning scripture.  Your child will learn 10 of Jesus' most important lessons from the Bible including The Lords Prayer/Our Father and John 3:16. This is more than a toy, it is a foundational tool to raise children in Christ.  Teach your kids before the World does. 
• For God so loved the World, that he gave his only son... John 3:16
• The Lord's Prayer. Our Father, who art in heaven... Matthew 6:9
• Love the Lord your God with all your heart.. Mark 12:30
• Love your neighbor as yourself. Mark 12:31
• I am the way, the truth and the life. John 14:6
• With God, all things are possible. Mark 10:27
• Treat others the way you want to be treated. Luke 6:31
• I am the light of the world. John 8:12
• Peace be with you. John 20:19
• Follow me. Matthew 9:9
• I love you.
Height: 12 inches / 30 centimeters
Weight: 5 ounces / 140 grams
Material: All new polyester
Voicebox: Battery operated. LR44 alkaline. Batteries included. Replaceable.
Content: 11 Phrases
Language: English
Access: Velcro
Activation: Open velcro enclosure on the back of doll to access voice box. Remove plastic tab that protrudes from voicebox.
Safety: ASTM-F963 1,2 & 3
Certs: Children's Product Certificate from Consumer Product Safety Comission.
Reg: PA-100518 (CN)
Put Christ back in Christmas.
Voice
His kind voice speaks 10 of Jesus' phrases from the Bible.
Embroidery
High quality embroidery finish gives the doll a premium look and feel.
Soft
Super soft velboa, the premium fabric for plush toys.
Detail
Meticulous detailed hands, feet, sandals, hair and garments.
Love
Latest reviews from over 1000 happy customers.
Smile!
Real customer photos. Send us yours!
Victory.
A parent's greatest victory is when their child has a relationship with Jesus Christ. Early influences are formative and have lifelong effect. Give your child toys with spiritual value and introduce Jesus early and often. He is the way, the truth and the life.
Order Now